Description
Edit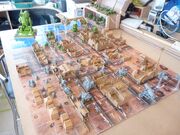 Daddymaykadarobots is an active community member on the forums, showing off several custom builds he has used to make his own games more lively. His work is awe inspiring and interesting to see.
Custom Terrain
Edit

He makes a variety of custom Terrain. From war destroyed houses to entire power plants and special objectives, he's thought of and created it all. These amazingly detailed custom terrain would be killer for any fan to get their hands on.
Custom Units
Edit
 He also hasn't been shy about getting his hands on some custom units! Look at these designs! He should've been on the design team. Each one is unique and looks like it would fit in the world of Rivet.
Other Photos
Edit
And check out his other custom pieces. All would be to die for!